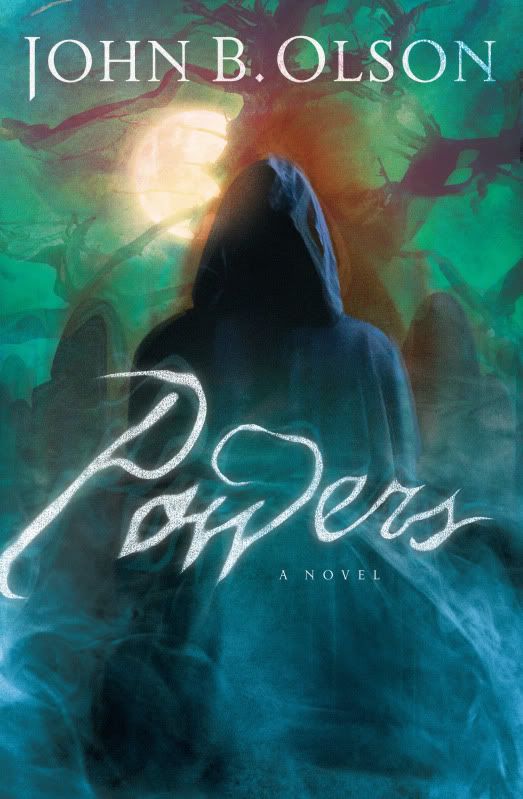 Novel: Powers: A Novel
Author: John B. Olson
Pages: 400 (ARC)
Genre: FICTION - ADULT: Mystery, Detective, Suspense & Thrillers: Thrillers

Powers, the follow-up to John Olson's Shade ("a must-read for those who enjoy Ted Dekker and Frank Peretti" —Publishers Weekly), introduces a sheltered Gypsy girl named Mariutza. Her grandfather utters a mysterious last request before dying in her arms after being shot by ten cloaked men. Those same men die before her eyes, but strange powers continue to pursue Mari through the swamps of southern Louisiana where she has always hidden from "the Badness."
The whole world seems to join in the chase—helicopters, soldiers, government agents, and the police are all trying to kill her. Mari's only hope of survival is to find Jaazaniah the Prophet, the mythical hero of her grandfather's bedtime stories. But she has never been outside the swamp or known other humans besides her grandfather and one teacher. How can this lone girl survive the bewildering world of men long enough to find a prophet who might not even exist?

(I will not be posting any spoilers! Only opinion for the sake of those of us who love to have our first look at a book be untainted by foreknowledge.)
This was not what I expected. I read the short description and thought I had found a novel that might not be the best fit for me but I was willing to try. I instead found a novel that was an amazing match for me and felt almost like the heart of my favorite Thiller novels had just jumped into my favorite Urban Fantasy Shelf and had a field day. This had everything. It made your heart beat faster with suspense, it had touching spiritual moments that were implemented extremely well and overall was very descriptive and a pleasure to read. Not to mention that the story including Gypsies had already intrigued me so by the time I reached page ten… well, let us just say you couldn't pry it from my hands with a crowbar. Amazing novel, amazing twists and turn that keep you guessing, overall, a stunning novel that will have me keeping my eyes out for more works by John B. Olson in the future.

5 Stars!
Would I suggest you read it:
I would suggest this novel to all readers looking for a wonderful Urban Fantasy or Thriller that is not only Christian but has an overall more positive side than many of the thriller and urban fantasy novels on the market currently. It is not considered YA but I would suggest it to many of my fellow YA readers and honestly enjoyed it!
(This novel was received through netGalley. This does not change my stance, opinion or effect my views in any way.)