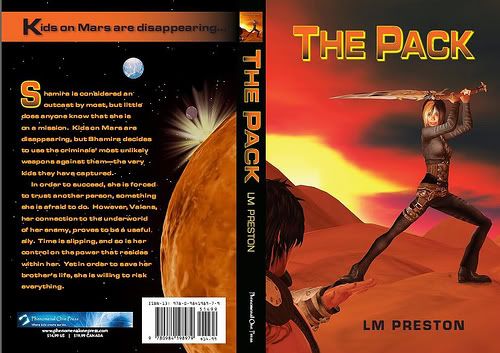 Novel: The Pack
Author: L.M. Preston
Pages: 315
Genre: YA (Science Fiction)

Kids on Mars are disappearing, and Shamira is on a mission to save them. As a
blind vigilante, she was always an outcast and loner. Yet, to save these kids and
her brother she will need the help of others. Valens is determined to help her,
whether she wants it or not. With his help she recruits an unlikely army, an army
of kids kidnapped and enslaved by the crime organization that is trying to take
over Mars.
In order to even the odds she must tap into her hidden strength, risking her
control of it and herself in order to save them all.
Book Trailer:

(I will not be posting any spoilers! Only opinion for the sake of those of us who love to have our first look at a book be untainted by foreknowledge.)
I loved reading this novel. Shamira is amazing and someone who can be hard to relate to while still being someone anyone can relate to. All of us have been outcasts at one point or another, all of us have felt how hard it is to be in a situation where something terrible is happening but there is just no way you feel you can help. She shows that even if you are blind and all of the odds seem to be against you, if you step up to the plate you just might hit a home run.
L.M. Preston hit a home run with this novel. You have suspense, humor and heartbreaking moments with deep emotion all wrapped up in one amazing book. I will admit, at first I wasn't sure I would like it, I can be a bit of a pessimist but I LOVED it! This novel also deals with something very read but giving it a fiction surrounding, it deals with kidnapping, something that happens on this earth every single day and what it can do to the people who are left behind or taken. She weaves an amazing story which swept me off my feet and I am just not sure I will ever be the same again.

Would I suggest you read it:
YES! DETINATELY! This is an amazing read. While I was hesitant all my hesitancy disappeared when I met Shamira, the kick … ummm… to be kid friendly I will say rear, main character who will have you laughing, crying, screaming and possibly even wanting to go out there and make a difference in the small ways that any human being can. I LOVED IT!
blog: //lmpreston.blogspot.com/
LM. Preston was born and raised in Washington, DC. An avid
reader, she loved to create poetry and short-stories as a young
girl. With a thirst for knowledge she attended college at Bowie State
University, and worked in the IT field as a Techie and Educator for
over sixteen years. She started writing science fiction under the
encouragement of her husband who was a Sci-Fi buff and her four
kids. Her first published novel, Explorer X - Alpha was the
beginning of her obsessive desire to write and create stories of young
people who overcome unbelievable odds. She loves to write while on
the porch watching her kids play or when she is traveling, which is
another passion that encouraged her writing.
And guess what everyone… are you guessing yet? Oh, I guess I will just tell you. Thanks to the wonderful L.M. Preston we are giving away a copy of The Pack right here! In addition, if you win The Pack from this contest, you also get an ARC copy of Bandits when it comes out Spring of next year! (Something I know I am looking forward to!) All you have to do is enter your name and email then follow at least two of the following:
Emma Michael's Blog:
http://EmmaMichaels.Blogspot.com
L.M. Preston's Blog:
http://lmpreston.blogspot.com/
L.M. Preston's Facebook:
http://www.facebook.com/?sk=games_mynews#!/profile.php?id=100000094441527&ref=ts
or her Twitter:
https://twitter.com/LM_Preston
And fill out this form. It is that simple! If you like using the forms rather than comments please comment and let me know so I will use it again in the future! You can also receive five additional entries for each individual you refer and an additional entry for each of the above you decided to follow! The winner will be announced on June 2nd! That means you have two weeks to enter and gather your additional points!
P.S.- For you own copy of The Pack by L.M. Preston click the Amazon link