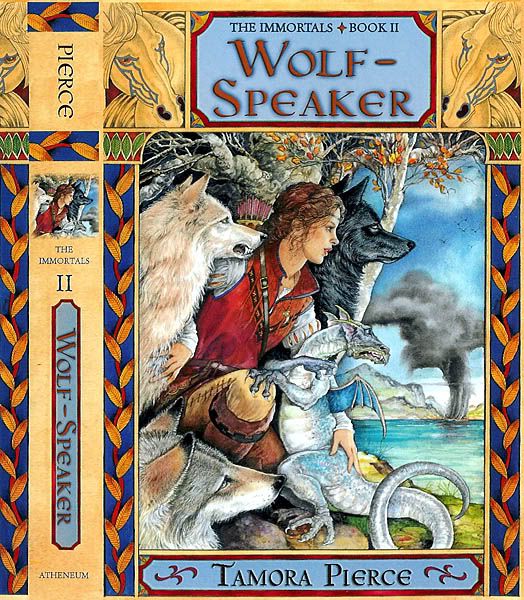 Novel: Wolf-Speaker
Author: Tamora Pierce
Pages: 281
Genre: YA (Fantasy)

In this sequel to Wild Magic (1992), the pack of wolves that helped 14-year-old Daine avenge her family's death call her back from her mage training at King Jonathan's court. Humans ("two-leggers") are ruining Dunlath Valley. Daine, who speaks the language of animals and is learning to enter animals' minds and shape-change, works to help the two-leggers and the animals move beyond species prejudice to prevent an ecological disaster and the overthrow of the beneficent King Jonathan. Suspense is stronger than characterization here, but the exploration of diverse animal personalities will intrigue readers.
(From Booklist)

(I will not be posting any spoilers! Only opinion for the sake of those of us who love to have our first look at a book be untainted by foreknowledge.)
Okay, in this book you find out a bit more about Daine though not as much as you find out in Wild Magic or The Realm of the Gods. You also find out more about her old pack and the past that was hinted at in Wild Magic. You get to experience a unique perspective when it comes to Daine and the wolves. It is actually very beautiful and if you are a wolf lover you are sure to enjoy it! You also meet Kitten the dragon and even a bit about the gods of Tortall which is very interesting and you continue to learn more of in Emperor Mage which will be my next review!!! I love this book and hope you will love it too!

Would I suggest you read it:
Wolf-Spear is a moving and beautiful book that I would suggest for anyone of any age. It is also great for any wolf lovers and any fans of Sharron Shinn's 'Twelve Houses Series' which features Kirra, a shape shifter.
Other covers:
Author's website: http://www.tamora-pierce.com/