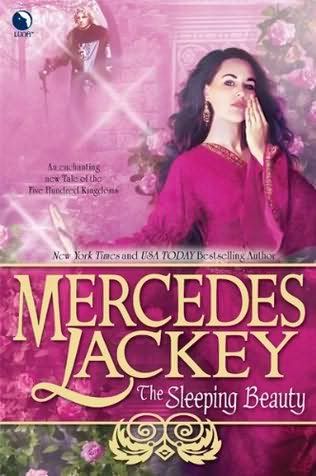 Novel: The Sleeping Beauty
Author: Mercedes Lackey
Pages: 336
Genre: FICTION - ADULT: Romance: Other

With signs and traditions pointing to an all-out war set to break out among the kingdoms, Rosamund, the king's daughter, is "playing dead" as two princes show up at the palace intent on waking her with a kiss. But, as the two of them start to fight it out, Rosa's godmother cuts them all short and takes charge. Now, with two princes competing for the hand of Sleeping Beauty-one of them, the one with roving hands (Prince Leopold) probably "should" be her prince, while the other (Prince Siegfried) doesn't seem to belong here at all-more complications occur. The king dies and the neighbors start looking at Rosa's kingdom. But with the palace filling with young and old princes intent on winning Rosamund's love, invading the kingdom and putting those young men in peril would mean incurring the wrath of thirty other countries!

(I will not be posting any spoilers! Only opinion for the sake of those of us who love to have our first look at a book be untainted by foreknowledge.)
This novel was full of surprises. I had never read one of the Tales of the Five Hundred Kingdoms before and now am definitely going to have to look into the other four installations in the series. I think there may have been a few details I was not able to understand because of not having read the previous four novels but I look forward to read them and then re-reading this novel because it is amazing and I really feel that I sold myself short. Wonderful concept and a rollercoaster of emotions, mostly laughter. Sleeping Beauty was filled with twists and turns that had me laughing until I could hardly breath. Definitely a great book for anyone who needs a more humorous book to read that still has more to it than meets the eyes.

4 Stars!
Would I suggest you read it:
Yes! I would suggest this to anyone who is a fan of Mercedes Lackey, romances with humor, old stories with a new twist or if you just love princess novels.
(This novel was received through netGalley. This does not change my stance, opinion or effect my views in any way.)