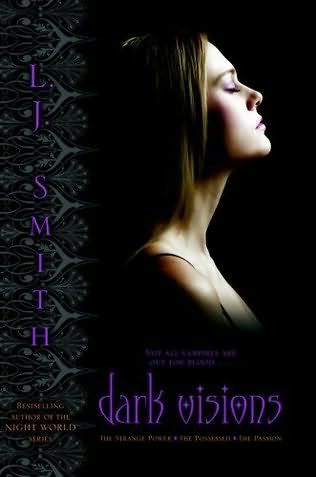 Novel: Dark Visions: The Strange Power, The Possessed, The Passion
Author: L.J. Smith
Pages: 752
Genre: YA (Fantasy)
(<<

GIFTED AND CURSED
Kaitlyn Fairchild has always felt like an outsider in her small hometown. Her haunting eyes and prophetic drawings have earned her a reputation as a witch. But Kait's not a witch: She's a psychic. Tired of being shunned, Kait accepts an invitation to attend the Zetes Institute, where she can have a fresh start and study with other psychic teens.
Learning to hone her abilities with four other gifted students, Kait discovers the intensity of her power -- and the joy of having true friends. But those friendships quickly become complicated when Kait finds herself torn between two irresistible guys. Rob is kind and athletic, and heals people with his good energy. Gabriel is aggressive and mysterious, a telepath concealing his true nature as a psychic vampire, feeding off of others' life energy. Together, Rob and Gabriel's opposing forces threaten the group's stability.
Then one of the experiments traps the five teens in a psychic link. A link that threatens their sanity and their lives. And Kaitlyn must decide whom to trust...and whom to love.

(I will not be posting any spoilers! Only opinion for the sake of those of us who love to have our first look at a book be untainted by foreknowledge.)
I did enjoy this book. There were some parts I had a hard time getting through but overall it was almost addictive. I got it from the library and started reading and next thing you know I am having a hard time stopping. I had to be bribed to get to sleep and even then it didn't work very well until I was completely finished with the book. I love the differences between Gabriel and Adam and I love Anna's character. Overall each of the five main characters in the link are so lovable in their own ways. Lewis is adorable! Anna tends to keeps her emotions to herself making her the person who Kaitlyn can truly count on because she always puts Kaitlyn first. It is an entirely new twist on Vampires in some ways and on witches.
Rob is amazing and there are many parts where you start to feel the same things as Kaitlyn for a moment before catching yourself and trying to force yourself to breathe again ("It's okay… it is only a book…. It is only a….*flips page*) I will warn you though that this book is darker than some of L.J. Smiths others. Part of the reason it is so much darker is simply because of the premise and because of just how believable the characters are. I hope you will enjoy this book because I did.

Would I suggest you read it:
Yes! All L. J. Smith fans are bound to love this novel and Gabriel's dark personality that contrasts to Adam's so well.
Author's Website:
http://www.ljanesmith.net/