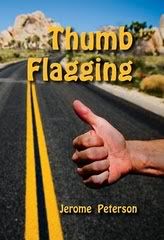 Novel: Thumb Flagging
Author: Jerome Peterson
Pages: 410
Genre: YA (Fantasy)

The lure of the open road and the undeniable wanderlust of the heart have overtaken the life of young, kindhearted Jay Patterson. When he meets confident, free-spirited Willy Jacobs, Jay hesitantly becomes a bohemian of the highway in this tale set in the late seventies. Their unforgettable cross-country journeys by hitchhiking and riding the rails lead them to extraordinary situations beyond their imaginations.
Willy is a friendly street-smart drifter who applies his zany roadside therapies to help Jay overcome his crisis of confidence. As the unlikely pair travel, Willy philosophizes and uses his strong personality and energy persuading Jay into becoming a hitchhiking junkie. The vagabonds meet with unexpected encounters and come face-to-face with themselves and the harsh realities of the open highway.
They stumble upon many others who are traveling and tending to their own physical, psychological and emotional wounds. Paranoia strikes at the heart of their journey as they cross the path a number of times with a mysterious psychopathic couple.
While traveling alone from Arizona to Maine, Jay meets a female drifter. The decisions they make could result in a magical relationship or a tragic goodbye.

(I will not be posting any spoilers! Only opinion for the sake of those of us who love to have our first look at a book be untainted by foreknowledge.)
This novel has a writing style that at first made me hesitant but is somehow very addictive. Normally a novel with anything that could be considered 'slang' is not my cup of tea but the novel was well paced and entertaining. Let me point out before I go on that this in not YA like many of my other reviewed novels meaning that the content is somewhat different. If you like topics such a hitch hiking, hippies, the 70's or some types of Thriller you will likely enjoy this but keep in mind that it being an adult novel means it features content that may not be suitable for some younger ages. Now for the good part of the review, the opinion.
I enjoyed the writing style of this novel even though I hesitated, it caught me off guard and actually had a way of making me feel more at ease which made the thriller and suspenseful parts of the novel have an even more vivid effect. It had its lighthearted moments and also very, very dark moments. Overall, I felt it was a worthwhile novel but also felt maybe I should not have read it RIGHT before bed. Might want to keep the lights on for this novel, I am looking forward to Jerome Peterson's next novel and hope it is as good if not better than Thumb Flagging.

Two Stars
Would I suggest you read it:
It truly depends on the type of novel you enjoy. I did suggest it to a few friends and even lent out my copy to one of them. Some of them did enjoy it and others share my opinion. While many novels it is a matter is skill, this novel does have skill and it is more a manner of taste. So overall, if you have checked out this review and it seems like something you might enjoy then YES!
Disclaimer: I did receive this novel from the author for reviewing purposes. However, that does not effect my stance or opinion of it's content. Hope you all enjoy! I am an amazon associate