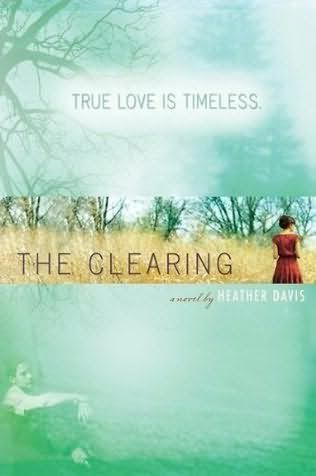 Novel: The Clearing
Author: Heather Davis
Pages: 228
Genre: YA

In this bittersweet romance, two teens living decades apart form a bond that will change their lives forever.
Amy is drawn to the misty, mysterious clearing behind her Aunt Mae's place because it looks like the perfect place to hide from life. A place to block out the pain of her last relationship, to avoid the kids in her new town, to stop dwelling on what her future holds after high school. Then, she meets a boy lurking in the mist--Henry. Henry is different from any other guy Amy has ever known. And after several meetings in the clearing, she's starting to fall for him.
But Amy is stunned when she finds out just how different Henry really is. Because on his side of the clearing, it's still 1944. By some miracle, Henry and his family are stuck in the past, staving off the tragedy that will strike them in the future. Amy's crossing over to Henry's side brings him more happiness than he's ever known--but her presence also threatens to destroy his safe existence.
In The Clearing, author Heather Davis crafts a tender and poignant tale about falling in love, finding strength, and having the courage to make your own destiny--a perfect book to slip into and hide away for awhile.

(I will not be posting any spoilers! Only opinion for the sake of those of us who love to have our first look at a book be untainted by foreknowledge.)
Wow… finally a new spin on a paranormal romance. If you are looking for a hardcore paranormal book, this isn't the novel for you, or if you are looking for a romance without depth because this novel had depth, a deeper meaning it stands for and so much more. You get to see a romance between Amy and Henry, the two main characters, blossom and you get to see each of them blossom themselves. Amy, especially, grows as a characters covering deep issues such as abusive relationships and having to face a harsh reality. One of the hardest things in life is learning to forgive yourself, something which many of us could use some help on and this novel did help me understand a bit more about it.
As a warning, there are a few scenes with sexual content and drinking so this might be a novel for more mature YA readers but these scenes were appropriate to the story and a major part of Amy's growing as a character and learning from her past. This also does have some content in regards to abusive relationship so as I said above, this is a novel about a young woman growing in many ways. She grows as a character, a person and overall she learns more about the world and herself than I had first expected her character to given her past. This novel it very well written even though it changes a lot between first person and third when it is switching between different character's points of views.

4 Stars!
Would I suggest you read it:
I think fans of Sarah Dessen who are looking for a novel with some fantasy would adore this novel. It has a realism to the characters while keeping the fantasy parts of the story intact and using them to its advantage. Overall, worth your time. Who knows, maybe you might find a few things in it she learns about herself that might help you, I know I did.
(This novel was received through netGalley. This does not change my stance, opinion or effect my views in any way.)