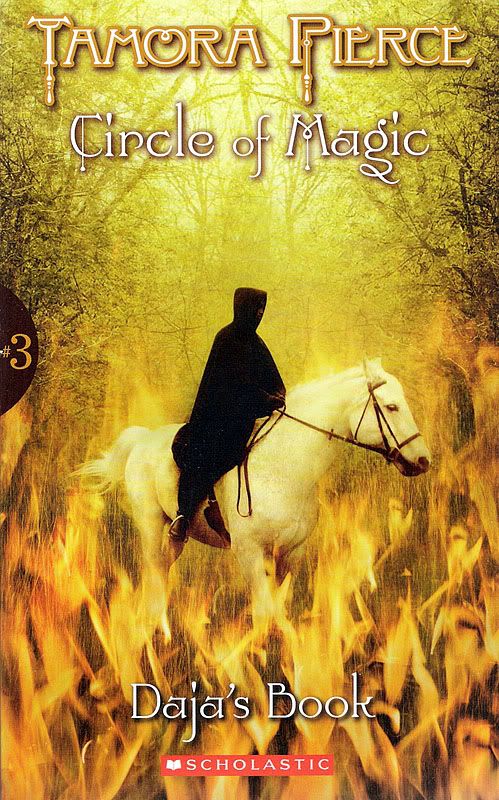 Novel: Circle of Magic #3 (Daja's Book)
Author: Tamora Pierce
Pages: 240
Genre: YA (Fantasy)

As in the other books in the series, four mages-in-training are the key players, but here it is Daja Kisubo's turn to take center stage. While traveling in a drought and fire-stricken part of the country with her fellow students and their mentors, the young people's magical talents somehow become intertwined, leading Daja, who is linked to the element of fire and the craft of smithing, to create a seemingly living vine out of metal. Nomadic Traders recognize the vine as a powerful object and take the complicated ritual steps required to purchase it from Daja. Having been cast out by the Trader class as a young child when her family's ship sank, she is seen as a source of bad luck to be avoided at all costs. During the negotiations, she must come to terms with the part of her that still yearns for her past life, and her growing power as a mage. As in the previous books, the climax revolves around a natural disaster that requires the four new mages' powers working together to minimize its effects. The fantasy elements of the series as a whole are satisfyingly well imagined, as are the main characters, and readers who have not read the first two novels will understand what is going on. This is a definite purchase where the previous books are owned, but it should also be considered on its own merits where they are not-which will undoubtedly lead to demand for the circle to be completed.
(By School Library Journal's Carrie Schadle)

(I will not be posting any spoilers! Only opinion for the sake of those of us who love to have our first look at a book be untainted by foreknowledge.)
Daja's story will at points nearly break your heart but it will also make you understand her, possibly even be able to relate to her better even though throughout the series she is the one who at times can be hardest to relate to. After this book I never felt that way again, I understood why she had acted the ways she had in past books and was deeply impresses by her, as well at Tamora Pierce and her brilliant writing style that created her. This story still holds true to the friendship that these four teens were able to find but also help them understand Daja better, while we learn to along with them.
Overall, this is an amazing novel that will stay on my favorites shelf well into my old and gray years! It starts a fire in your heart that will having you racing off to the store to try and find Briar's novel which will be features in my next review!

Would I suggest you read it:
I love Daja's story and I hope that you will too! It is well worth the read and while sad at times overall it shows what she had to overcome and that even someone who everything refuses to acknowledge can be the one person they need most.
Other Covers: