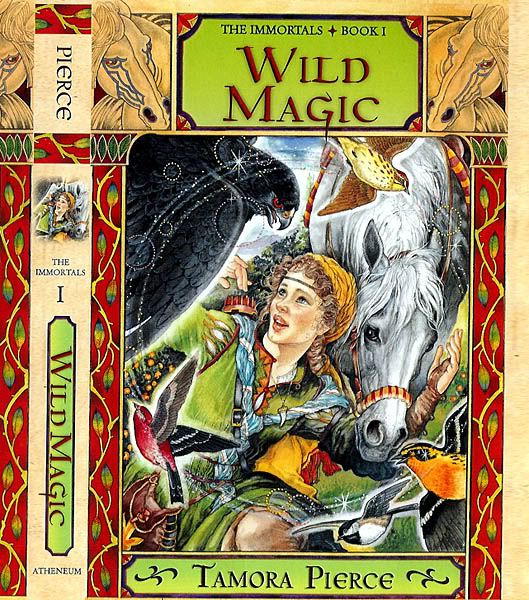 Novel: Wild Magic
Author: Tamora Pierce
Pages: 299
Genre: YA (Fantasy)

In this exciting fantasy that includes some characters from Pierce's "Song of the Lioness'' quartet, a young heroine named Daine, who has a special way with horses, comes to accept and perfect her own type of "wild magic'' after she is hired as an assistant to a horse-mistress of a mythical kingdom. Daine learns to channel her healing skills and to develop her power to communicate with animals, the latter of which she uses to fight vicious immortal monsters, the Stormwings. There are many gory encounters, most of them involving female fighting champions, including Alanna, the king's champion knight. Those readers who enjoy a swashbuckling imaginative adventure will enjoy this story, which is filled with all types of creatures and all sorts of magic. Some may be a bit confused by Daine's visions and by the extent of her power, which seems to allow her to revive even the dead.

(I will not be posting any spoilers! Only opinion for the sake of those of us who love to have our first look at a book be untainted by foreknowledge.)
After I finished the 'Song of the Lioness Quartet' the first time, I was anxious to read more about Tortall. At first I couldn't stop thinking 'But it isn't Alanna' for all of about a few pages before I was in love with Daine's story. She is someone who you can really relate to. She has such a sad background story that I won't spoil but she is someone who you honestly feel with and her abilities only enhance the way that you grow to love her character. She is someone who has been through hard times and yet still sees the best in innocence. The innocence of animals. Her love for them and her ability to relate to them in ways that a normal person would not be able to shows a deep and residing love that could never be taken away from a person. Many people have these emotions buried or they are so fragmented that these emotions are destroyed or warped but her emotions stay true and the animals around her are able to bring those emotions out in the best ways possible and the worst making this story truly beautiful and moving. I love this book just as much as I did the first time I read it… and the second… and third… etc.

Would I suggest you read it:
Yes, this is a favorite! So much so that I think my library fees tallied up through my life would almost all be from this book before I had finally gotten to buy it.
Author Website:
http://www.tamorapierce.com/index.html
Other covers: