I am excited to finally get to reveal the secret! I have crossed my non-existent t's and I have dotted my one i and signed the contract for the release of my debut novel

The Thirteenth Chime

for Friday the 13th this August! Yes, that is right, only a few short months away and I will need all the help I can get getting a buzz started and creating some serious hype about my debut. Unlike many authors, I am a book blogger turned author and more than that, a serious Young Adult fan and devotee so I want to do things right so please support me on my quest to get to the top 100 Best Sellers List!!!!!!!
I can't do it without you! I need for everyone to post my countdown widget or help get the word out in any way you can because I realize you all are my secret weapon and together we can make it there!!!!! Love you all and check out my new

The Thirteenth Chime

tab for more information, to find out what you can do or how to contact me if you are interested in e-mailing me for an author spotlight, guest post or to submit for a review (ARC E-book any format that is digital) copy of

The Thirteenth Chime

.
You all may have notice I did a complete blog revamp, all of my websites will also be getting complete makeovers including my website www.EmmaMichaels.com and my newest website
www.TheThirteenthChime.com.
There will be a lot of changes being made but I will not stop my reviews and will still be keeping up with posting as always. The main difference is that the better the book down the more I can do for all of you including giveaways and so much more. I am going to be doing a lot of offers that most wouldn't but you all mean so much to me that I just can't help it. Including that after the novel's release if you buy a copy and e-mail me your receipt and mailing address I will mail you swag for your support. You can even get swag for referring others! To find out more check out my new tab and finally, I will unveil the cover:

The Thirteenth Chime by Emma Michaels
'A Sense of Truth' novel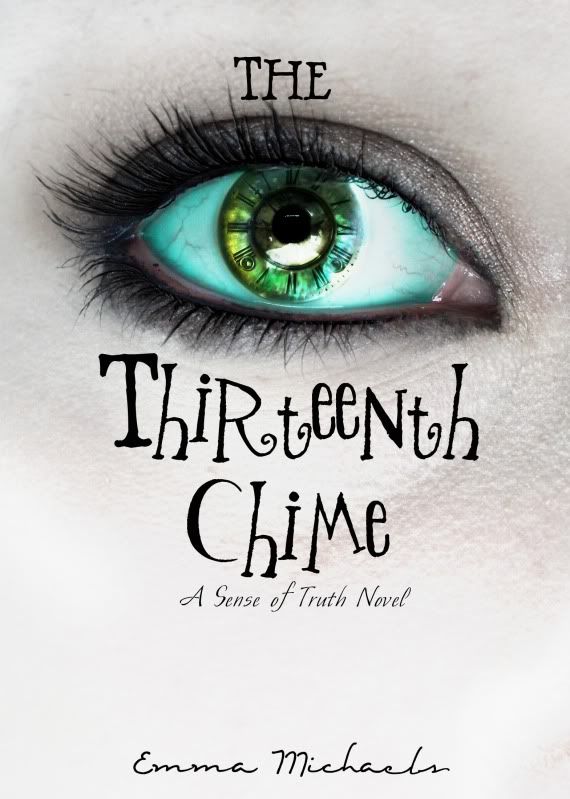 No one knew of its existence until it was removed from the attic upstairs.
In a beautiful house that overlooks the sea, an antique clock has the power to change the course of their lives.
The power the clock resonates will not only force Destiny and ex-boyfriend David on a journey into the depths of one man's mind long dead, but into the mind of a man filled with hatred and bent on revenge.
With the only clues to the nature of the clock having disappeared into the sea, Destiny and David must retrace the steps the man had taken into the darkness, before they fall prey to the trap he had set in motion over half a century ago.
Genre: Young Adult (Paranormal/ Urban Fantasy)
Available soon in all digital formats and print
for more imformation or to submit your blog for a change to review
The Thirteenth Chime
e-mail Emma@EmmaMichaels.com
or
SincerelyEmmaM@yahoo.com
(Please feature The Thirteenth Chime in the subject)
Thank you so much and love you all!!!!!
Emma Michaels