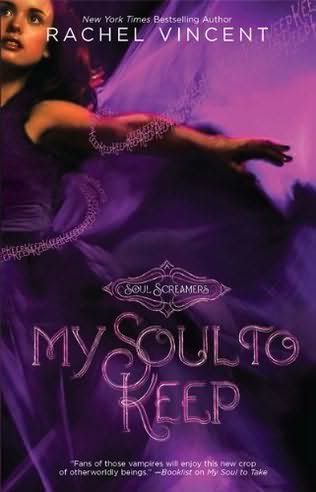 Novel: My Soul to Keep
Author: Rachel Vincent
Pages: 304
Genre: YA Urban Fantasy

Kaylee has one addiction: her very hot, very popular boyfriend, Nash. A banshee like Kaylee, Nash understands her like no one else. Nothing can come between them.
Until something does.
Demon breath. No, not the toothpaste-challenged kind. The Netherworld kind. The kind that really can kill you. Somehow the super-addictive substance has made its way to the human world. But how? Kaylee and Nash have to cut off the source and protect their friends—one of whom is already hooked.
And so is someone else…

(I will not be posting any spoilers! Only opinion for the sake of those of us who love to have our first look at a book be untainted by foreknowledge.)
I have already been hooked on this series since My Soul to Take and read each of the three novels before this one, including the free e-book from Rachel Vincent's website. Let me state, I did not see this coming! I am both in awe and yes somehow horrified. It was brilliant and my emotions are so mixed up right now. I can't say too much without giving anything away and I don't want to spoil the surprises but let me just say, you just might find yourself in complete shock! I know I still am. This novel somehow managed to make all of the characters more real for me, more human in both wonderful and horrifying ways. Let me say it also makes me really proud of Kaylee and may have made me fall for Tod just a little bit. I can hardly wait to see what will happen next!

5 Stars!
Would I suggest you read it:
Amazing book that is a must read for all Rachel Vincent and Soul Screamer fans! Completely series altering in a way that I am sure will really make the series shine in the next novel which I will be waiting for most impatiently.
(This novel was received through netGalley. This does not change my stance, opinion or effect my views in any way.)