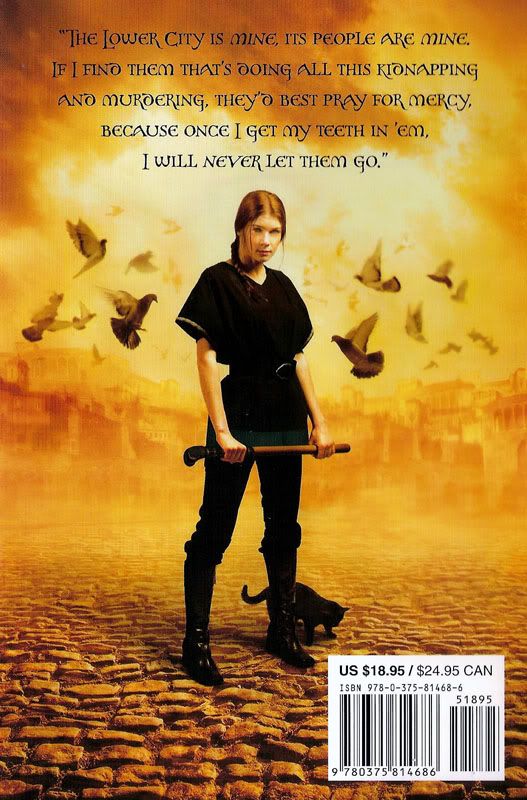 Novel: Terrier
Author: Tamora Pierce
Pages: 608
Genre: YA (Fantasy)

Orphaned Beka Cooper, 16, is a trainee-a "Puppy"-in the Provost's Guard. Having spent the first half of her life in Tortall's slums, she is driven by the need to do what is right and see justice done. Paired with two of the best Guards, or "Dogs," in the organization and aided by her own gifts of magic, Beka learns her job, makes friends with two mages and a thief, and uncovers two serial killers who prey on the poor and unnoticed. With Terrier, Pierce tries out a new style of storytelling and succeeds admirably. Beka, the ancestor of George Cooper from the "Song of the Lioness" series (S & S), tells her story through journal entries, making for a thoroughly engaging read. The characters are recognizable types, but all have their own personalities. Readers will enjoy meeting the Lady Knight Sabine of Macayhill, Alanna's precursor in profession and temperament; Rosto the Piper; and Beka's friends. The level of violence is comparable to that found in "The Circle Opens" series (Scholastic) but isn't as gratuitous. This seems mostly to be due to the journal format, which gives readers only Beka's thoughts and feelings as opposed to those of the killers as well. With its rollicking adventure, appealing characters, and inclusion of Tortall's history, Terrier will be in strong demand by Pierce's fans. It will keep readers on the edge of their seats.
(By School Library Journal's Lisa Prolman)

(I will not be posting any spoilers! Only opinion for the sake of those of us who love to have our first look at a book be untainted by foreknowledge.)
This book has spoiled me rotten. I need to wait a bit before reviewing anything else because most everything fails in comparison to this novel and its sequel which will be featured in my next review. Many of you are probably familiar with the world Tamora Pierce has created that surrounds the realm of Tortall. This novel shines an entirely new light on the realm, making it more realistic and something you can feel more passionately about.
You get taken down into the slums of Tortall and introduced to a completely different type of life from the other Tortall novels. Beka is one of George Cooper's ancestors and honestly there are a few points in the book where you want to go forward to the times of Alanna and slap George right across the face for being a thief after everything Beka has gone through to try and keep the people of Tortall safe from people just like what he ended up being. Beka's story for me was relatable and a wonderful read, it had a wonderful pace and when you read it, if you are anything like me and tend to not be able to put down a book once you pick it up if it is a keeper, then you are sure to have this done fast and be stuck wishing you had more… which luckily you do with the next novel I will be reviewing, BloodHound.

Would I suggest you read it:
Yes! In my opinion it is one of Tamora Pierces best works yet and a story you can't help but love!