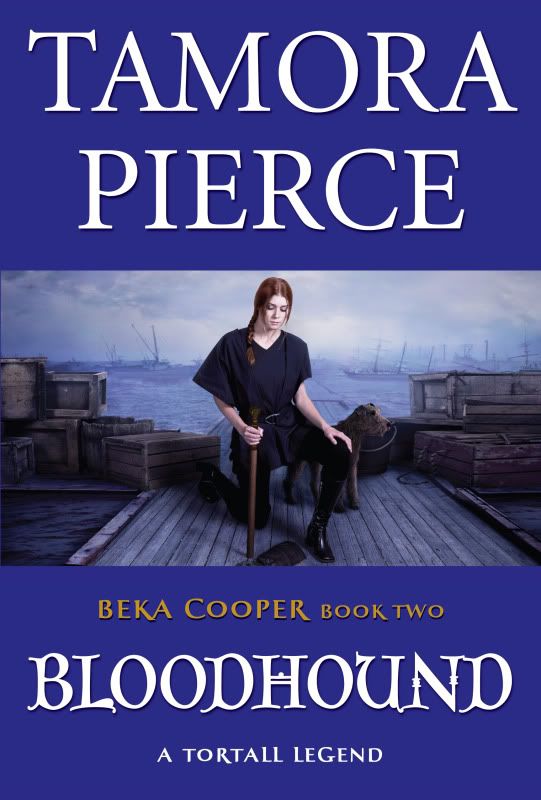 Novel: Bloodhound
Author: Tamora Pierce
Pages: 560
Genre: YA (Fantasy)

Fans of Pierce's medieval fantasy police-procedural series will love this book as much as Terrier (Random, 2006). Beka, 17, is serving her first year as a Dog (police officer) in the Provost's Guard. She and her mentor and old partner, Goodwin, are sent from Corus to Port Caynn to try to discover the source of the counterfeit silver coins that are flooding the region, causing soaring grain prices and riots in Corus. Beka is accompanied by Achoo, the scent hound she rescued from its abusive handler. While in Port Caynn, she and Goodwin tangle with Pearl, Queen of the Thieves, and her crew. Beka falls for Dale, a handsome and charming gambler and bank courier who may be in league with Pearl. The action drags a bit in the middle to focus on the romance but makes up for it in the end. Pierce vividly imagines this world in which police procedures are different, yet similar to those of today. Ponce, Beka's wise cat, who is also a God, is mostly absent but Beka's other unusual magical sources of information-pigeons inhabited by talking ghosts of the dead and spirits in spinning dust funnels—continue to add to the series' appeal. Beka is as headstrong and feisty as ever and frequently makes errors in judgment but is willing to learn from her mistakes. She truly earns the nickname Bloodhound as she faithfully narrates her story through journal entries.
(By School Library Journal's Sharon Rawlins)

(I will not be posting any spoilers! Only opinion for the sake of those of us who love to have our first look at a book be untainted by foreknowledge.)
This book manages to accomplish everything a great book should. It makes you laugh, cry and through a large portion of the book you might find yourself on the edge of your seat ready to jump up at any second. I was not able to put it down, literally, I had to be reminded that food is a necessity. This book much like the first in this series takes you to the slums of Tortall only you also get to go beyond the Tortall borders and explore new areas of the realms around it. You meet wonderful new characters and one of my favorite characters ever invented, Okha Soyan! Did I mention that Okha is Amber by night?
This novel also has many differences related to Tortall's history. In Alanna's books there is no slavery in Tortall because it has already been outlawed but in Beka's world there is slavery and because of it a lot that she has to do to help people who could end up being sold into it where they wanted to be or not. There are also the rogues as there are in Alanna's time and so much more. It is absolutely amazing !

Would I suggest you read it:
YES!!!! With nearly a thousand more exclamation marks!