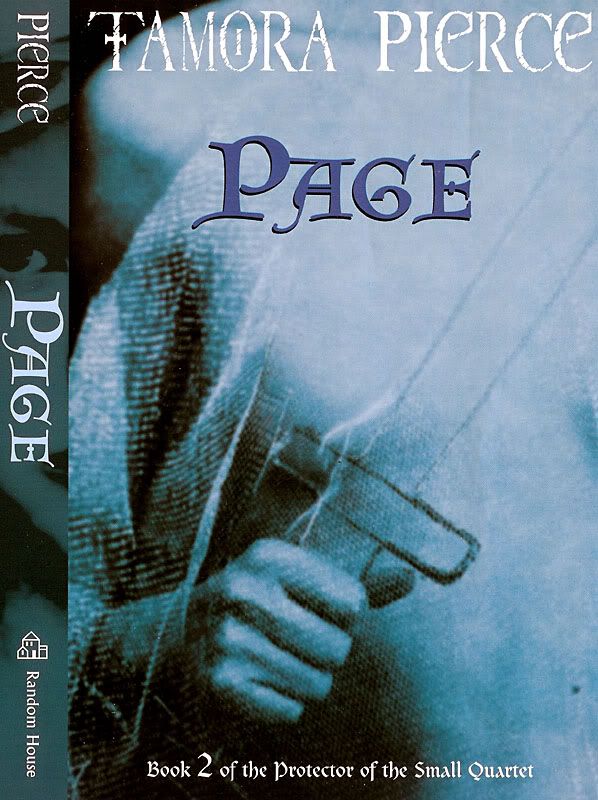 Novel: Page
Author: Tamora Pierce
Pages: 288
Genre: YA (Fantasy)

In this second tour through the fantasy kingdom of Tortall, Keladry begins her second year as the first "official" girl page. She has a new friend, a shy and uncertain maid who has been bullied and possibly molested, whom she helps overcome her fears by teaching her self-defense. Kel and her friends meet new challenges as they continue their training to become knights, face down a pack of raiders, and rescue one of their own from kidnappers. Appearances by familiar characters from the previous book will please fans, but new readers will have no trouble following the story. The plot is engaging and Kel's character growth continues as she deals with puberty, works to overcome her fear of heights, and gains the respect of her peers and teachers. Many books portray girls excelling in traditionally male roles through manipulation and finesse, but Pierce makes Kel sweat for her success through perseverance, hard work, and skill. Readers will appreciate this true example of grrrl power!
(By School Library Journal's Heather Dieffenbach)

(I will not be posting any spoilers! Only opinion for the sake of those of us who love to have our first look at a book be untainted by foreknowledge.)
For those of you who read First test you understand what Kel had to go to in order to become a Page, only her story isn't anywhere near finished yet. This novel covers her years as a Page and you even get a hint of Daine on the scene for those of you who loved The Immortal Quartet. She finds herself receiving more gift from her mysterious benefactor and learns to show a more emotional side to some individuals, which we get to finally see start to come out a bit more. She even finds some new friends including a woman she saves, though I won't say more than that and a wonderful little animal to add her large range of wonderful pets. This book deals with bullying which is a topic not many can cover with as much blatant grace but Tamora Pierce manages to do so wonderfully.

Would I suggest you read it:
As many of you probably already know this is one of the novels from the challenge I gave myself at the start of the year to re-read the novels that inspired me to write. This is one of them and while not my favorite to read it definitely did a lot for me and helped me to understand that sometimes believing in yourself can mean having it in you to do things that are hard and every once in a while believing in yourself can simply mean continuing on because you know it is the right thing to do.
Hope you enjoy!!!
Other Covers: