I have decided to join my first challenge!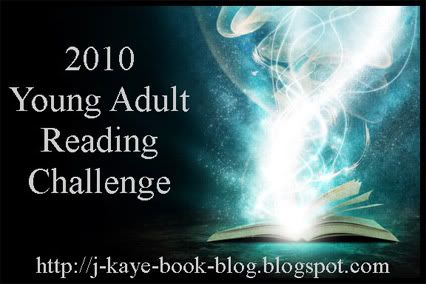 I am going to be going for Super Size Me YA Reading Challenge – Read 75 Young Adult novels!!!
I will be posting some reviews but I am not sure how many because I am still working on so much else. The updates will be posted here on this list though I will post an extra blog every ten or so novels. My list will not be premade because I never know what goodies I might find at my local library and bring home to read or what books I have requested that will arrive. Feel free to send any suggestions though I do already have 14 novels pre-ordered at my library. If you would like for me to subscribe to your challenge page feel free to message or comment!
Thank you!
Sincerely,
Emma
2010 Young Adult Reading Challenge
(Ends December 31, 2010)
1. – Once a Witch by Carolyn MacCullough
2. – Alanna: The First Adventure by Tamora Pierce
3. – In the Hand of the Goddess by Tamora Pierce
4. – Woman Who Rides Like a Man by Tamora Pierce
5. –Lioness Rampant by Tamora Pierce
6. – Wild Magic by Tamora Pierce
7. –Wolf Speaker by Tamora Pierce
8. –Emperor Mage by Tamora Pierce
9. – The Realms of the Gods by Tamora Pierce
10. – First Test by Tamora Pierce
11. – Page by Tamora Pierce
12. –Squire by Tamora Pierce
13. –Lady Knight by Tamora Pierce
14. – Sandry's Book by Tamora Pierce
15. – Tris's Book by Tamora Pierce
16. – Daja's Book by Tamora Pierce
17. – Briar's Book by Tamora Pierce
18. – Magic Steps by Tamora Pierce
19. – Street Magic by Tamora Pierce
20. – Cold Fire by Tamora Pierce
21. – Shatterglass by Tamora Pierce
22. – Will of the Empress by Tamora Pierce
23. – Melting Stones by Tamora Pierce
24. – The Espressologist by Kristina Springer
25. – My Soul To Take by Rachel Vincent
26. – My Soul To Lose by Rachel Vincent
27. – Airhead by Meg Cabot
28. – Being Nikki by Meg Cabot
29. – The Vampire Diaries: The Awakening by L. J. Smith
30. – The Vampire Diaries: The Struggle by L.J. Smith
31. – The Vampire Diaries: The Fury by L.J. Smith
32. – The Vampire Diaries: Dark Reunion by L.J. Smith
33. – The Hollow by Jessica Verday
34. – The Secret Circle: The Initiation by L.J. Smith
35. – The Secret Circle: The Captive Part I by L. J. Smith
36. – The Secret Circle: The Captive Part II by L. J. Smith
37. – The Secret Circle: The Power by L. J. Smith
38. – Dark Visions: The Strange Power by L. J. Smith
39. – Dark Visions: The Possessed by L. J. Smith
40. – Dark Visions: The Passion by L. J. Smith
41. – Sea Change by Aimee Friedman
42. – Beautiful Creatures by Kami Garcia & Margaret Stohl
43. – Another Faust by Daniel & Dina Nayeri
44. – Love is Hell by Melissa Marr, Scott Westerfeld, Justine Larbalestier, Gabrielle Zavin and Laurie Faria Stolarz
45. – Deadly Little Secret by Laurie Faria Stolarz
46. – Wintergirls by Laurie Halse Anderson
47. – The Two Princesses of Bamarre by Gail Carson Levine
48. – The Pack by L. M. Preston
49. – Harry Potter and the Sorcerer's Stone by J. K. Rowling
50. – The Woman Who Loved Reindeer by Meredith Ann Pierce
51. – Spellfall by Kathrine Roberts
52. – Mary, Bloody Mary by Carolyn Meyer
53. – The Forgotten Beast of Eld by Patricia A. McKillip
54. – Harry Potter and the Chamber of Secrets
55. – Fairest by Gail Carson Levine
56. – Ella Enchanted by Gail Carson Levine
57. – East by Edith Pattou
58. – Cut by Patricia McCormick
59. – Beware, Princess Elizabeth by Carolyn Meyer
60. – AngelMonster by Veronica Bennett
61. – Ready or Not by Meg Cabot
62. – Doomed Queen Anne by Carolyn Meyer
63. – Harry Potter and the Prisoner of Azkaban by J. K. Rowling
64. – Harry Potter and the Goblet of Fire by J. K. Rowling
65. – Harry Potter and the Order of the Pheonix by J. K. Rowling
66. – Harry Potter and the Half-Blood Prince by J. K. Rowling
67. – Harry Potter and the Deathly Hallows by J. K. Rowling
68. – Terrier by Tamora Pierce
69. – Bloodhound by Tamora Pierce
70. – My Soul to Save by Rachel Vincent
71. – Fallen by Kate Lauren
72. – Triple Threat by Claire Birch
73. – Tight Spot by Claire Birch
74. – Coffee House Angel by Suzanne Selfors
75. – The Mermaid's Mirror by L. K. Madigan